As a kid my family would take a vacation every summer to Block Island, a small pristine island off the coast of Rhode Island. I still go there every summer, and next summer my fiancé and I will be married there! It is one of the most special places on earth; I call it my happy place. There's just something magical about it that I can't put into words, but if you have ever been there you know what I mean.
So when I came across Block Island Organics I couldn't contain my excitement!! Er-meh-gerd!!!  I know a lot of my friends and readers are conscious about what they put in their bodies and on their skin, and I'm always looking for a great organic skincare line that is safe and not in the three figures.
I've had the opportunity to test out their Revitalizing Night Cream for a few months now, and since it's summer, (and I will be vacationing on Block Island next month) I can't wait to try out their Mineral Sunscreen.
So heres what ya need to know:
Block Island Organics is a family business, created by brother and sister Will and Lauren von Bernuth, along with Will's wife Kelly.
They are all about helping educate people on healthy sun protection and safe skincare.
They use NO parabens, sulfates, phthalates, dyes, artificial fragrances or gluten.
Products are vegan, cruelty free, and never tested on animals.
They use organic ingredients such as rosehip, chamomile, sunflower, avocado, and olive.
Ingredients
I believe that ingredients matter a lot when it comes to skincare and so does Block Island Organics. I love that they give full disclosure of the ingredients and their reasons for choosing them. Right on their website they have a list of every single ingredient in the products and what it is used for. For all my educated consumers out there like me who stand in the grocery store googling every ingredient before purchasing something- they've got you covered!
I love that there are no fragrances too, because they can sometimes irritate my sensitive skin. I find that the night cream is super moisturizing without feeling heavy and thick. Plus every time I use it I think of my favorite vacation spot!
I share this product as someone who genuinely likes and uses it. I was not paid to write this review. Hopefully you will get a chance to try out these cruelty free and vegan products if that's your thing. Happy summer!
XO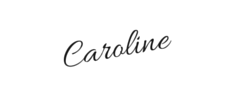 PS.. Because I freaking love all of you so much I wanted to share my discount code if you want to snag yourself some of these kickass products. Use the code "caroline" at checkout to get 20% OFF!