So I decided to do Whole 30 again. The last time I did it which was a few years ago I was not successful. I gave up about half way through it, not because I missed junk food, but because I was creating a shit ton of anxiety in my head over the things I "was allowed" and "not allowed" to eat. Reading every label, trying to be perfect, freaking out when there were no Whole 30 options available, and feeling like I was punishing myself. It felt more restrictive than anything and lead to my food control issues getting worse. My decision to call it quits was more about restoring my mental health than anything else. I felt out of balance and worried all the time about what I would eat. That's totally NOT THE POINT of Whole 30.
I felt like I had let myself down by not succeeding, like I was a failure. Would the "Whole 30" police be knocking on my door any minute??? But the silver lining was this was a major lesson I had to learn about worry, control, and food anxiety. Since then I've been working towards balance, which is easier said than done for me. I am grateful for the lesson though, because I got to witness my thought patterns around food.
I was getting some universal nudges that it was time to jump back in and try it again. This time I'm trying to NOT sacrifice my mental health in the process. I thought I would share my Whole 30 journey here on the blog by posting recipes of what I am eating, and discussing the mental aspect of food and anxiety.
Picture it: Sunday morning, rainy, dark, and cool. I only wanted something warm and cozy. Grains being off the list I had to get creative.
I got inspired by a post on pinterest that was similar to this but had a lot more ingredients. I almost always pass up on recipe that are too involved. Occasionally it's fun, bot on a regular day I need something fast and easy. And any time apples and cinnamon are involved it's instant cozy town.
I hope you enjoy.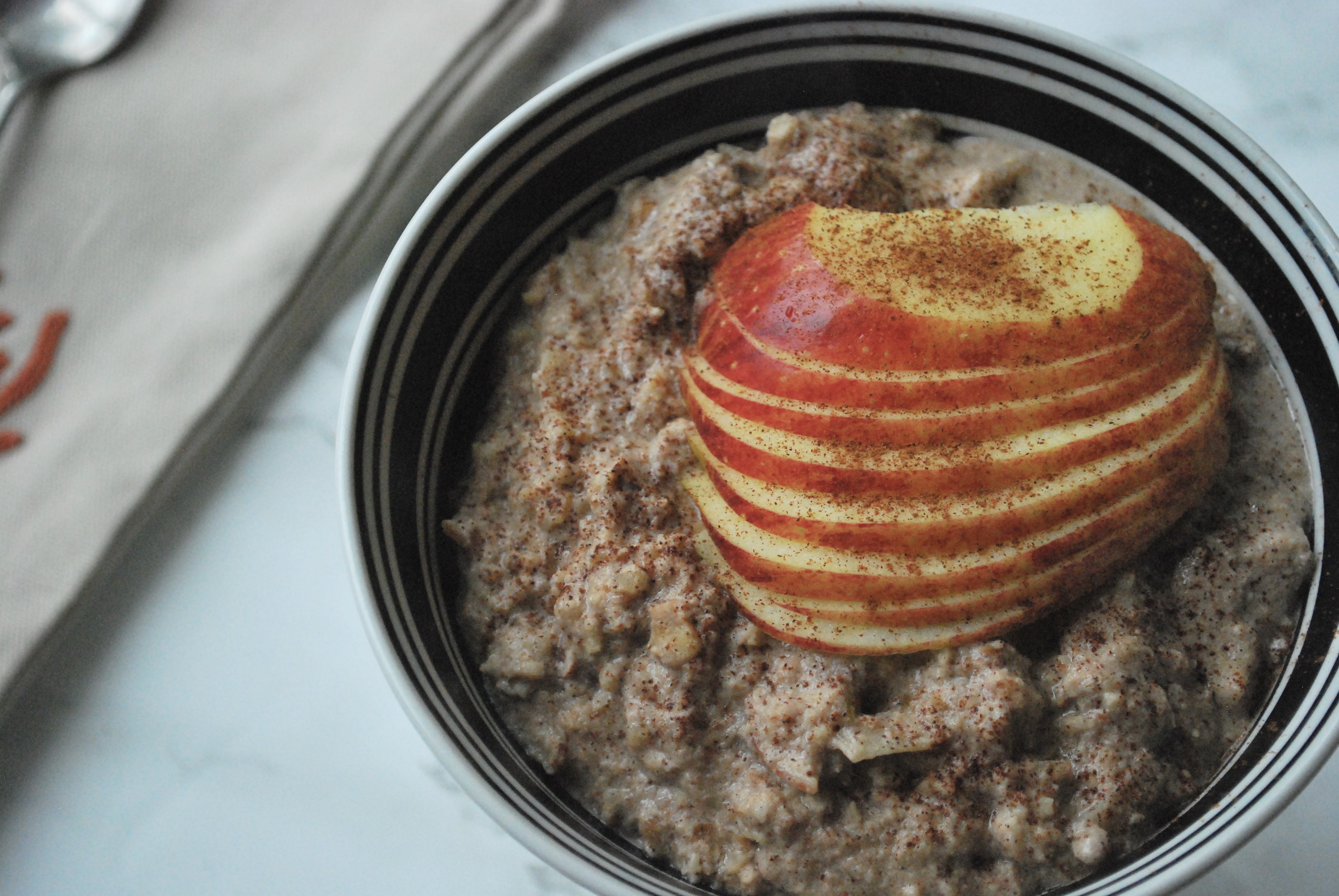 Ingredients
1 cup of any nuts you have but mix raw nuts are better. For this one I used cashews, walnuts, and pecans.
1/2 apple
cinnamon, nutmeg, ground cloves (or any combination of thees)
1 cup almond or coconut milk
Directions
In a food processor pulse the nuts so they are chopped. The consistency is up to you. If you want it like porridge then pulse it to a fine powder. I prefer a mixed texture of some larger chunks with more fine granules.
Finely chop some apple slices.  I used a mandolin to get really thin slices, but you can just dice them into small chunks too.
Combine chopped nuts, spices (any amount, no measuring required), and apples, with almond/coconut milk in a saucepan and simmer for 5-10 minutes.
Top with some more apples and cinnamon to make it pretty!
That's it! SO EASY! It's fast and super healthy, giving you a great dose of protein in the morning.