One of my favorite summer flavors is basil. We used to grow tons of it in our backyard garden and have an abundance of basil in every meal. After harvesting several bunches we would come up with different ways to incorporate it into our meals. A standard tomato, basil, and mozzarella salad was always available, but pesto was another go-to summer recipe in my house.
I decided to alter this one a bit for the more health conscious by using zucchini noodles and avocado. The texture is slightly creamier as a result; tasting like a pesto, with the texture of an alfredo sauce. I eat avocado at almost every meal on a daily basis, finding different ways to use it has become a fun hobby! Avocado martinis anyone? Ok that might not be a good idea.
This avocado basil pesto recipe is simple and healthy! If you know me by now you know that I don't do complicated recipes with a ton of ingredients. I believe that living a sustainable and healthy lifestyle is easier when simplified; as most things in life are. I hope you enjoy this recipe as much as I did making it!!!
Cheers to a great summer!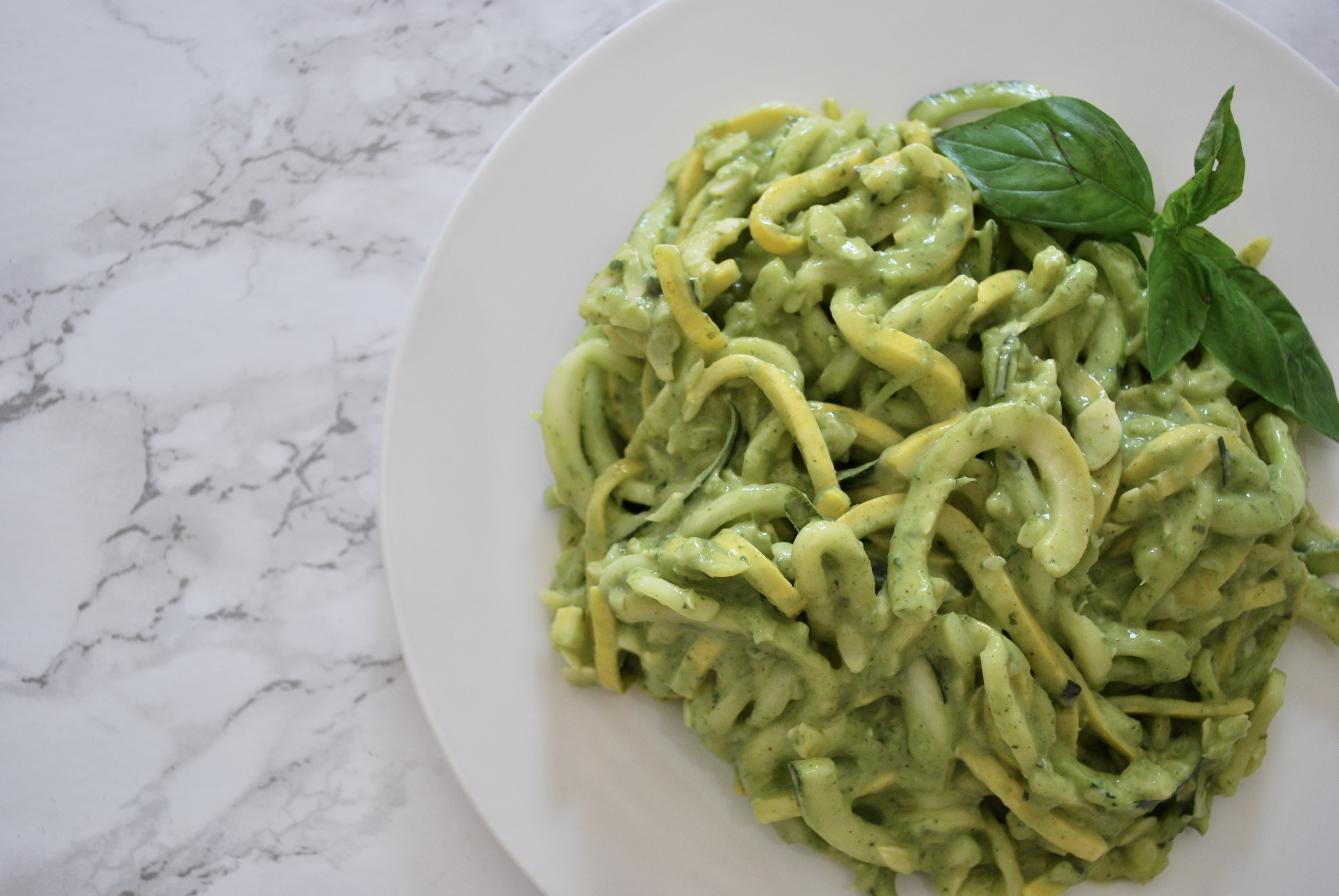 Ingredients
1 cup basil leaves
1/2 ripe avocado
2 cloves of garlic chopped
2-3 tablespoons of olive oil
1-2 tablespoons of lemon juice
zucchini noodles
*Optional* pine nuts and parmesan cheese
Directions
In a food processor combine  basil, avocado, garlic (or more if you like!), olive oil, lemon juice.
If the pesto is too thick to blend because of the avocado try adding a teaspoon of water to thin it out.
Toss pesto paste with zucchini noodles.
 *Pine nuts generally go into pesto, but I went without them this time and it turned out fine, but if you like them add in to the food processor. Same goes for parmesan cheese.
I also like to add some shaved parmesan on top when it's ready to serve. Add salt and pepper to taste