I have the privilege of calling this wellness leader my friend. Erica Velasquez is the creator of Yoga in the Vines- my favorite summer tradition, and founder of Evolve East– a wellness based business in the Hamptons, specializing in yoga, meditation, and Thai massage. We met when she was working at Wolffer Estate Vineyard (home to my favorite rosé of all time) and we quickly realized we both had a passion for wellness. So there is something good that can come out of hanging out at the winery all the time!!
I interviewed Erica for Bloom & Spark because I felt that her mission and work are incredibly aligned with the values of this blog. I'm also super excited about sharing the inspiring work that women in the wellness field are doing. I feel very lucky to know so many phenomenal women and want to support and honor their beautiful work.
How did you get started in yoga and wellness?
I've always loved to dance and move. I remember looking into a yoga studio window as a teenager and seeing students all in headstand. I remember thinking what in the world are those people doing?!!! I have to learn more.
Tell me about the business you run and how you are helping women with their wellness?
My business is Yoga in the Vines which is an outdoor yoga studio based at Wolffer Estate Vineyard in Sagaponack. I also own Evolveast which offers services such as retreats, private yoga and health related investments. I am on a mission to provide women (and men) the opportunity to reap the health benefits of spending time in nature. I believe time spent outdoors can heal, cure and rejuvenate a person. Taking a time out from technology, cellphones and computers is a must for wellness.
What are your favorite resources (books, industry leaders, podcasts) for living a healthy and happy lifestyle?
My favorite resources for living a healthy and happy lifestyle are the yoga teachers and leaders of the Hamptons.  I am so thankful we are surrounded by a community full of the very best instructors.
What are your favorite types of yoga/movement and why?
Favorite type of yoga is a strong vinyasa class with restorative poses towards the end of class. It allows me to get my heart to beat, release stress and enjoy the art of relaxation.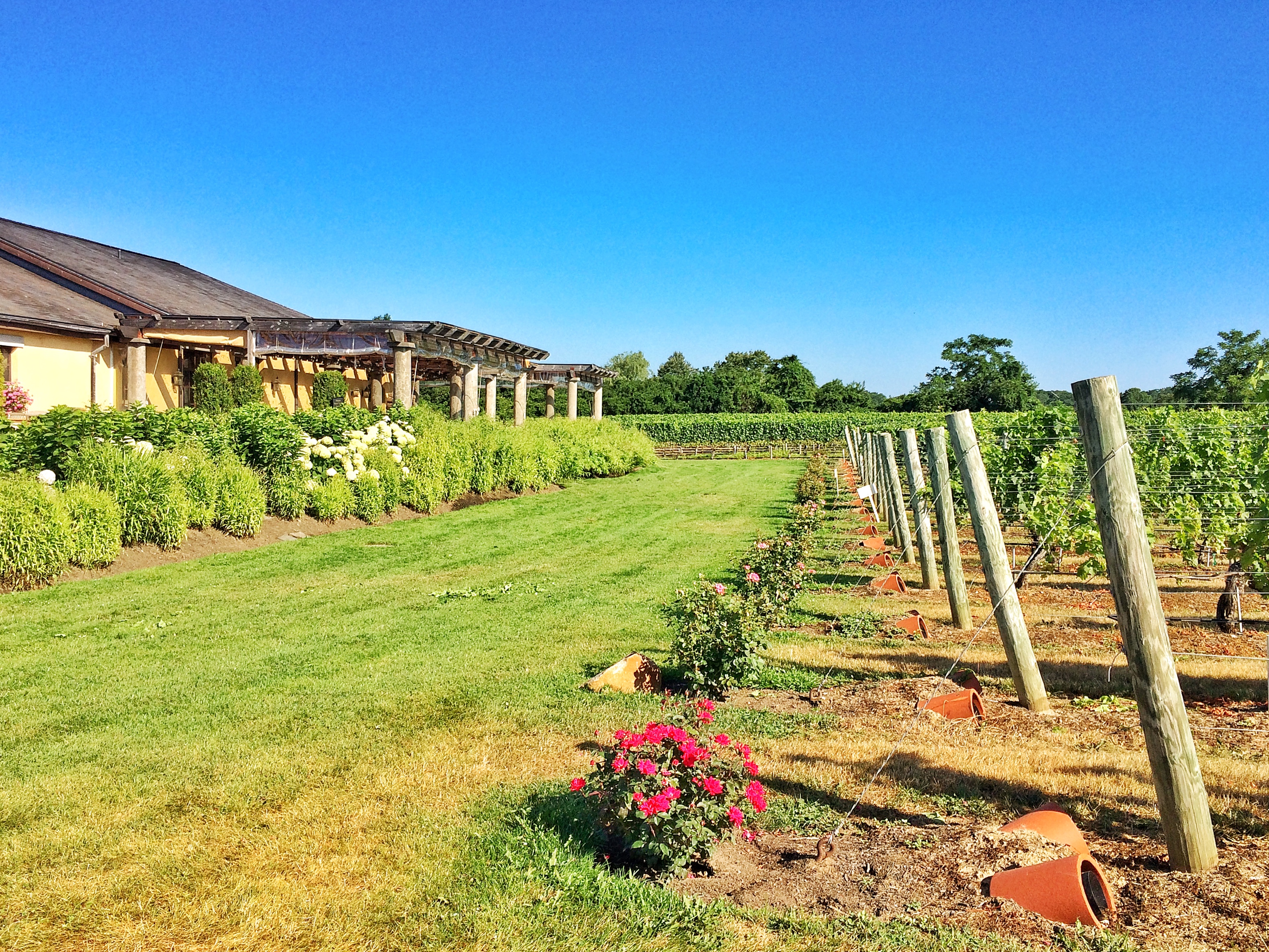 What are the biggest rewards in the work you do?
The thank you's from the students and teachers at Yoga in the Vines at Wolffer. I feel like I am serving my community. I enjoy seeing everyone smile after class. I enjoy seeing people gaze at the Vineyard my cousin Richie and his crew work so hard on. I'm so proud of this program and all the supporters.
What do you tell people who want to feel better in mind and body but don't know where to start?
The hardest part is getting started. Just start. Try something new. Have fun with it. Try a guided meditation. Try a gentle or beginner yoga class and work your way up to something more challenging. Visit a local studio or travel to a studio you have never been to before. Experience a live class in person with a group and have fun! Explore new teachers.
Take me through your perfect Hamptons day!
Truth Training East Hampton with Natalia Poggi. Enjoy making breakfast for my boyfriend and I; smoothie and eggs please! Then Yoga in the Vines at Wolffer, followed by a boat ride out of waterfront marina around Sag Harbor. Enjoy some lunch at home on my porch sitting in the sunshine. A big yummy salad please! Take walk around Sag Harbor Village then have dinner at Sen sushi in Sag Harbor. Finally watch sunset at Long Beach with my wonderful boyfriend Chris and go to sleep! I'll admit it. I love early bedtime !!!!
What do you think are the keys to living a balanced lifestyle?
A good night sleep! Turn off the lights, the computers, the phones, everything at least 1 hour before bed. Use lavender room spray from the Lavender Farm on the North Fork. Put on cozy pajamas. Read an inspirational book before bed. Say what your thankful for and enjoy a good night sleep. Wake up early and smile.